Training Course For Coating Inspectors With Certification By FROSIO
Two-week course created according to the FROSIO curriculum defined by the FROSIO Council. The 80-hour onsite training with both theoretical and practical exams is a natural career progression for anyone with a successfully completed apprenticeship or for anyone with appropriate experience in anticorrosion work.
Paint-Inspector.Com will provide you with the best possible training to successfully pass the theoretical and practical exam.
Participants
The course is mainly for individuals who already have experience within the field of surface preparation and who are aiming at certification as inspectors, QA/QC and surface pre-treatment specialists. This means they need to work directly connected to pre-treatment of metallic surface, application of paint and other coatings for corrosion prevention and the inspection of such work. The course will give the participants both theoretical and practical training.
Instructors
Richard van der Wal
Richard is experienced professional with 25+ years experience in Coating and Corrosion Industry. He gained his outstanding experiences during years spent in P&O Nedlloyd, Carmar B.V. and as senior coating advisor in Hempel Coatings. In 2006 he established his own inspection company Paint-Inspector.Com.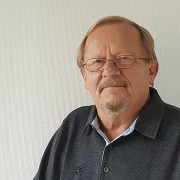 Henning Olsen
Henning has more than 45 years of experience in the paint industry dealing with R&D, customer support and technical training. Most recently, he worked as a technical service manager, senior training consultant and technical training manager at Hempel.
Over the last 20 years, he has trained more than 3000 technical and sales personnel inside Hempel, and more than 600 Frosio students worldwide.
With his help, we will provide you with the highest quality of training.
Content
Materials and design
Corrosion
Surface/Substrates for paints and coatings
Environment
Paints and Coatings
Requirements for execution of work
Standards, specifications, procedures
Inspection work, the role of the inspector
Health, Environments, safety
Online pre-course
With the purchase of the course, each attendee will receive access to our online pre-course covering the Frosio content including practice test questions, which may increase the chance of passing the exam.
September 23 - October 4
Online pre-course
Printed materials
Coffee breaks
Examination fee to FROSIO
Welcome dinner
Lunch
Location
Veselá 164/14, 602 00 Brno, Czech Republic
Accomodation
In cooperation with the Best Western Hotel International, we have a special price of 2250 CZK per night for a single room (approx. 90 EUR), 2500 CZK per night for double room (approx. 100 EUR). The price includes breakfast, entrance to hotel wellness and fitness, and wifi. The prices are valid only if 5 and more nights are booked. It is advised to all the participants to stay in the same hotel.
The hotel is located in the city center about 200 meters from the course teaching facilities.
The hotel address: Husova 16/200, 602 00 Brno, Czech Republic
The FROSIO course in Batam, Indonesia will be held in a form of night classes in combination with full days during the weekends to allow attendees to take the course without taking a vacation at their daily job. This course will still cover full 80 hours of theoretical and practical training finished with both theoretical and practical exams conducted by FROSIO.
The class schedule is following:
Mondays through Fridays: 18:00 to 22:00, Saturdays and Sundays: 8:00 to 15:00
June 15 - June 30 (Exam on July 1 and July 2)
Online pre-course
Printed materials
Coffee breaks
Examination fee to FROSIO
Lunch on full days
Location
 Travelodge Batam hotel - Jalan Duyung Sei Jodoh, Jodoh River, Batu Ampar, Batam City, Riau Islands 29432
Accomodation
In cooperation with the Travelodge Batam hotel, we have a special price of 670,000 IDR per night. The price includes daily buffet breakfast and 24-hr internet access.
The hotel address: Jl. Duyung Sei Jodoh, Sungai Jodoh, Batu Ampar, Batam Kota, Kepulauan Riau 29432, Indonesia